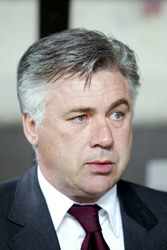 Carlo Ancelotti has extended his contract with Milan until June 2010.
The Rossoneri have confirmed that Ancelotti, who led Milan to Champions League success in Athens last week, has signed an extension to his current deal which was due to expire next summer.
Ancelotti will now be in charge for a further three years and after enjoying success in Europe, will now focus on bringing the Serie A title back to the San Siro.
"I am very pleased to have reached this agreement and I feel happy to continue here," Ancelotti told the club's official website.
"We have won the Champions League because in November the board have given me their confidence, while others talked about other coaches."
Ancelotti has stated previously that he would like to coach the Italian national team Italy when he retires from club management.