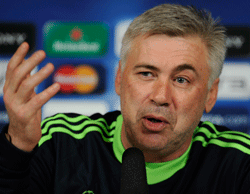 Guus Hiddink is favourite to be the next Chelsea manager as rumours of Carlo Ancelotti's departure intensify…
Chelsea manager Carlo Ancelotti's future is under the spotlight following the club's Champions League exit.
Ancelotti, who led the club to a the domestic Double during his first season at Stamford Bridge, has been unable to emulate that success this term.
Tuesday night's defeat by Manchester United at the quarter-final stage in Europe ended their only realistic remaining hope of silverware this season and there has been growing speculation that he will be fired in the summer.
In the wake of the Champions League exit, Chelsea would not be drawn on the future of Ancelotti.
A club spokesman said: "It's business as usual.
"The most important thing is to win all the games we can in the league and qualify for the Champions League."
Blues chief executive Ron Gourlay confirmed recently that the former Milan manager's position would be reviewed at the end of the season.
Turkey boss Guus Hiddink is one of a number of possible candidates should Ancelotti be shown the door and has a strong link with Abramovich after leading Chelsea to FA Cup success in 2009 during his brief spell at the helm.
But the Dutchman will not break his contract with the Turkish Football Federation, with a place in November's Euro 2012 play-offs in his sights.
"Guus will respect his contract with Turkey," his agent Cees Van Nieuwenhuizen told the Daily Telegraph.
"And because the results are going the way they are it looks like Turkey will qualify for the play-offs if they draw with Belgium on June 3 and with Austria in September.
"If they do not qualify for the play-offs he has already said that he will go. But from a technical point of view it is not possible for him to join Chelsea right now.
"It has nothing to do with his relationship with Roman Abramovich, which is good, but Guus has never broken a contract and Roman understands the position."
Guus Hiddink is favourite to be the next Chelsea manager as rumours of Carlo Ancelotti's departure intensify…