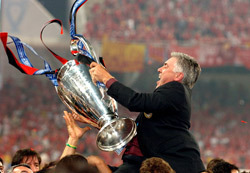 Carlo Ancelotti admits he considered joining Real Madrid last summer before deciding to stay with Milan.
The Milan coach claims he was a contender for the Real vacancy before compatriot Fabio Capello was appointed.
"Last year with Real Madrid there was a good feeling," Ancelotti told Sky Sport.
"But my affection (for Milan) prevailed and I stayed."
Ancelotti, who guided Milan to Champions League glory last month, is confident about the prospects of retaining the trophy now that Ronaldo will be available for selection.
He added: "We won the Champions League without Ronaldo and this year we will have him."
The Brazilian joined Milan from Real Madrid in the January transfer window, but was inelligible to play in the Champions League.