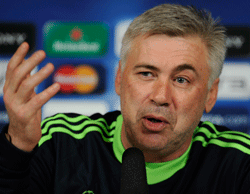 Guus Hiddink is the bookies' favourite to replace Carlo Ancelotti as Chelsea manager – see all the best betting here…
Chelsea boss Carlo Ancelotti concedes he would have 'no problem' if the club decided to fire him at the end of the season.
The Italian's position at Stamford Bridge has been a talking point for a number of weeks, and Wednesday's Champions League exit at the hands of Manchester United has merely served to intensify the speculation about his future.
But despite the scrutiny, Ancelotti insists he is remaining calm over his future.
"I don't know what my future is," he said. "At the end of the season, I think the club can decide if they want me to continue or if they want to change.
"If they are not happy, they can change without problem.
"If, at the end of the season, the owner decides my job was not good enough, this is not a problem.
"I will try to do my best, because I want to stay here. If there is a possibility to do that, I will be happy."
Chelsea have only finished a season without a trophy twice under Abramovich's reign, with the Russian tycoon sacking the manager on both occasions.
Ancelotti won the Premier League and FA Cup double with Chelsea in his first campaign at the helm, but the Italian admits that achievement has already forgotten.
"Last year is the past," he said. "Everyone was happy to win the double last year but this is the past.
"Obviously, this season was not a good season for us but now we have seven games."
He added: "To speak now about which kind of change the club wants to do for next season about a new transfer or my future is not the right time.
"Every one of us has to try to do the best for the left seven games.
"After that, in the summer, we can speak about this. But to speak now is not the right time."
Guus Hiddink is the bookies' favourite to replace Carlo Ancelotti as Chelsea manager – see all the best betting here…