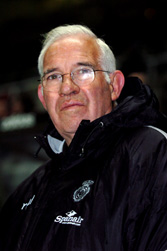 Spain coach Luis Aragones is prepared to apologise to Thierry Henry in person over an alleged racist remark.
Aragones claimed he was trying to motivate Henry's Arsenal team-mate Jose Reyes when he made the remark during training with the Spanish national team.
"If necessary I will go to London to clarify everything," Aragones said.
"I don't want Reyes to be harmed by the story. In England they don't understand my techniques to inspire my players."
Aragones' outburst, in which he described Henry as a "black shit", were overheard on Spanish TV and subsequently reported in the media. However, Aragones claims the criticism, especially in England, is unjust.
"The English have criticised me unjustly," he said.
"They do not know how I am personally with the players. I do not want to have any problems with Henry or with Arsenal."