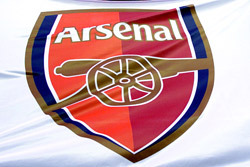 Man United have won their last 5 games against Bolton and head to the Reebok on Sunday – bestprice betting here.
Arsenal have announced record pre-tax profits of £56m.
The Premier League club also said it had paid off all debt on its Highbury Square property development of flats, built on the ground of its old stadium.
Figures covering the year to May 2010 showed that pre-tax group profits went up by £10.5m compared with the previous 12 months.
Arsenal chief executive Ivan Gazidis said: "The group has made good progress in the last year."
The company said it had sold 362 private apartments at Highbury Square, generating £156.9m revenue from property and allowed it to repay £129.6m of bank loans.
The overall level of group net debt had fallen from £297.7m last year to £135.6m, while turnover grew from £313m to £379.9m.
Operating profit before depreciation and player trading in the football business was £56.8m, down from £62.7m the year before after wage costs rose.
Profit from player trading was £13.6m, well above 2009's £2.9m, with the main contributions coming from the sales of Emmanuel Adebayor and Kolo Toure.
Commenting on the results for the year, Peter Hill-Wood, the club's non-executive chairman, said: "The most pleasing aspect of these results is that the returns generated in the property business during the year, particularly at Highbury Square, have allowed us to repay £130 million of bank loans and significantly reduce the Group's overall net debt.
"We now have a debt free property business which is accumulating surplus cash as further unit sales are made at Highbury Square and which has three further property assets to realise over the next few years."
Hill-Wood paid tribute to manager, Arsene Wenger's, careful stewardship of resources and commitment to bringing through young talent, paying tribute to to his ability to "extract value" by selling players "no longer central to his future plans."
Gazidis described last season as "something of a rollercoaster ride" on the pitch but said the club was in a good financial position to succeed.
"The competitive landscape makes it ever tougher to achieve success on the field and standing still is simply not, and never has been, an option for the club," he said.
"It is important that we continue to develop a vibrant and robust business with sufficient revenues to sustain success. The Group has made good progress over the last year and I am excited by the opportunities which we have in front of us."
Man United have won their last 5 games against Bolton and head to the Reebok on Sunday – bestprice betting here.
Make sure you don't miss any of the last news and articles from World Soccer. Subscribe to World Soccer today and take advantage of our all 50th anniversary offer, saving up to 50%!