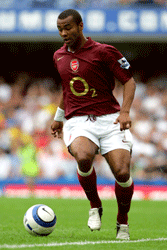 Arsenal have admitted opening talks with Chelsea about the sale of full-back Ashley Cole.
The 25-year-old England defender has been linked with a move to Stamford Bridge for over a year.
And Arsenal vice-chairman David Dein said: "As we speak now he is an Arsenal player and until you hear otherwise he is an Arsenal player.
"We have had a couple of very civil conversations with Chelsea and there is nothing else to say on that."
Arsenal manager Arsene Wenger has already admitted that there is no guarantee that Cole will be an Arsenal player when the new season starts.
Dein added: "He's our player. He started with us when he was 16 and if something else happens we will wait and see.
"If something happened and we decided to take an offer that's another story but at the moment he is under contract to us."
Cole's relationship with Arsenal has deteriorated in recent months and he is known to be unhappy with the club in they way they handled last year's tapping-up affair with Chelsea.
Chelsea's decision to sell left-back Asier Del Horno to Valencia last week is widely expected to open the way for Cole to move top Stamford Bridge.