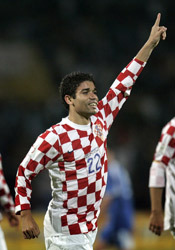 Arsenal have signed Croatian international striker Eduardo da Silva from Dinamo Zagreb.
The 24-year-old has signed a four-year contract at the Emirates Stadium with Dinamo claiming the transfer to be worth the £16.25m.
Da Silva moved to Croatia when he was 15 and became a Croatian national when he was 22. He has scored seven goals for his country.
Last season for his club, da Silva scored 34 times in 32 games, netting 71 goals in total in 100 appearances for Dinamo before his move to Arsenal.
Ironically, Da Silva scored the first competitive goal at the Emirates when Arsenal beat Dinamo Zagreb 5-1 on aggregate in last season's Champions League third qualifying round.
"I am excited and happy in the same time, also very proud that I am going to play in such a big club," said Da Silva.
"Every football player wants to play for Barcelona, Real [Madrid], Manchester United or Arsenal one day and so do I. I want to progress in my career, but it will be hard to leave Dinamo Zagreb after eight years. I will miss the club, the guys … I will be back one day, but now I want to accept a new challenge."
Mirko Barisic, the president of Dinamo, added that "the transfer is worth €24m (£16.25m) from the money Arsenal got after selling Henry to Barcelona. This is the biggest ever transfer in Croatian soccer, inluding the period of the former Yugoslavia."