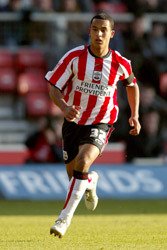 Arsenal have signed Southampton striker Theo Walcott.
The promising 16-year-old joins for a fee that is expected to be worth an initial £5m, but rising to about £12.5m based on appearances.
"I am so pleased to be joining Arsenal – a club I have admired for a long time," Walcott said.
"Coming to Arsenal will give me the opportunity to work with world-class players every day and play football at the highest possible level.
"I am leaving many friends and some great coaches who have been so important to my career so far, but I leave with many great memories from the club.
"I am now really looking forward to meeting my new team-mates and working hard as an Arsenal player."
Walcott becomes the most expensive 16-year-old in the history of British football.
Arsenal boss Arsene Wenger said he had been monitoring the development of the player for two years.
"Theo Walcott is a very young player, but has already shown in his performances for Southampton that he is a talented player with huge potential," said the Arsenal boss.
"I also like the fact that he is a versatile player who is incredibly dedicated, shows great determination to succeed and is blessed with electric pace.
"We are delighted Theo has signed for the club and will make a fantastic addition to our squad.
"There is always a gamble when you take young players. But I was ready to take that gamble.
"We did things properly with Southampton, then the agents, the family, the player.
"He made his decision and we would have respected whatever he decided but we were keen to get him.
"He is comparable to Wayne (Rooney) at his age. You have to be cautious with comparisons.
"Rooney has made big steps forward and justified what people said about him and I feel Theo can do the same."
Southampton chairman Rupert Lowe told the club's website: "We are bitterly disappointed. The purpose of developing the best Academy in the country is not to sell scholars to larger clubs.
"We have done everything to keep Theo at Southampton. But his family and advisors are determined that he leave this club and go to Arsenal.
Subscribe to World Soccer – The essential football magazine