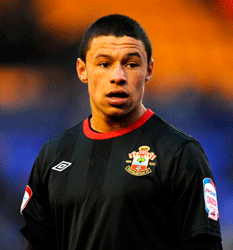 Simon Hopper thinks Chelsea are worth laying when they travel to Bolton tonight – see his full preview here
Arsenal manager Arsene Wenger is hoping to sign highly-rated youngster Alex Oxlade-Chamberlain from Southampton.
The 17-year-old midfielder has also been linked with a number of Premier League rivals, Liverpool, but Wenger is eager to steal a march on his rivals.
"We will try now," Wenger said. "We need an agreement with Southampton, we need an agreement with the player.
"We are not the only ones on the case, but we try as hard as we can because I like him as a player."
The father of Oxlade-Chamberlain, former England international Mark Chamberlain, has confirmed that Arsenal are the "ideal choice" for his son, with reports suggesting a deal could be agreed imminently.
"Arsenal, with the manager there, the way they play and develop players to play the game the right way, I think they are the ideal choice," Chamberlain told Sky Sports News.
"He is coping very well. As you say, it is all speculation, it's the time of the year when things do happen. I think the club, if there is anything happening, will keep us notified."
The midfielder has drawn comparisons with Walcott, who left Southampton as a 16-year-old and within six months was a member of England's 2006 World Cup squad. However, according to his father, Oxlade-Chamberlain is a better player.
"I am his dad, I have worked with both of them," he said. "They have both got different attributes. Theo has played 100 league games for Arsenal in the Premiership, played for England, scored a hat-trick, so he is a very good player.
"Alexander is a bit different. He is better technically, he is more of a central midfield player rather than a wide player."
Oxlade-Chamberlain joined Southampton's youth system aged seven and at the age of 16 years and 199 days became the club's second-youngest debutant, after Walcott, in March 2010.
He scored on his full debut in a 2-0 Carling Cup win over Bournemouth in August just before his 17th birthday and signed a three-year professional contract with the club a week later.
Simon Hopper thinks Chelsea are worth laying when they travel to Bolton tonight – see his full preview here
Take advantage of the January sales by saving up to 36% on a subscription to World Soccer