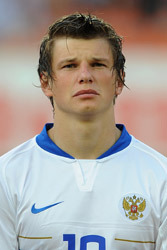 The outcome of Russia playmaker Andrei Arshavin's proposed move to Arsenal is expected to be revealed on Tuesday.
Arshavin's agent Dennis Lachter claimed he was "very confident" the 27-year-old's move from Zenit St Petersburg will be ratified by the Premier League.
"It was completed in extra time but we must wait for confirmation," he said.
A Zenit spokesman said on Monday that the deal had fallen through and the player was returning to the club. But Lachter claimed a deal had been agreed by all parties and only needed to be made official by the Premier League.
Lachter added that "in 16 years this has been the most difficult transfer ever", without wanting to go into details of the sticking points in the deal.
Reports suggested the deal collapsed when the clubs could not reach an agreement, but later on Monday Zenit spokesman Alexei Petrov was quoted as saying: "The deal was signed for three-and-a-half years and the financial details will be disclosed tomorrow."
Another report claimed Arshavin had joined Arsenal "until June 2012 for £12m".
Arsenal boss Arsene Wenger has remained hopeful throughout that he would sign the Russian.
"We are always confident, we try our best, if we can find an agreement, we will do it," he had said earlier.
"These kind of stories sometimes develop in the last minute on the final day of the transfer window. It is very difficult to predict."