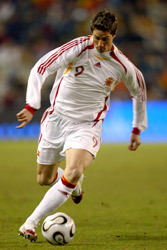 Atletico Madrid have denied claims that Liverpool have submitted a bid for Fernando Torres.
Reports over the last few days have suggested Liverpool were planning to spend £25m on the Spanish striker.
"We've received no offer from Liverpool or any other club or player," said Cerezo.
"There is nothing linking Torres with any team. He's on holidays, he's resting and he'll return to work on July 9."
Torres is understood to be considering his future at the Vicente Calderon after anotehr disappointing season.