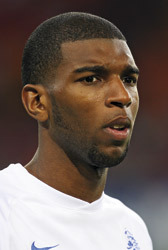 Rangers are still odds-on to win the SPL despite Kenny Miller's probable departure – see the best betting here
Liverpool striker Ryan Babel has confirmed he is keen to return to Ajax on loan as part of a deal for forward Luis Suarez.
The Reds are reported to have made contact with Ajax on Saturday over a deal for Uruguay striker Suarez.
"The transfer of Suarez to Liverpool opens the door for me to go to Ajax," Babel told De Telegraaf. "If Liverpool and Ajax – whether in combination with Luis – can reach an agreement over me I will surely come to the club.
"For the chance to play I am willing to settle for far less pay. For a player of my age it is important to be playing week in week out."
It appears Liverpool would prefer Babel to leave on a permanent deal, but the player is reluctant to do so.
"Ryan will only consider a permanent move if it is perfect in every sense," his agent, Winnie Haatrecht, told Voetbal International.
"If he signs a three-and-a-half year contract now, maybe he will be confronted with a new manager in July. Ryan would prefer to go through pre-season with a manager who really likes him, which is why he would rather be loaned out."
He added: "They [Liverpool] have to re-finance the squad and Babel is an interesting asset for a sale."
Rangers are still odds-on to win the SPL despite Kenny Miller's probable departure – see the best betting here
Take advantage of the January sales by saving up to 36% on a subscription to World Soccer