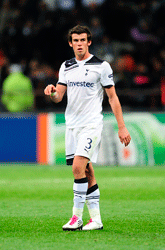 Blackpool are now a best price 4/11 for relegation after slumping to a 3-1 defeat against Wigan on Saturday…
Tottenham's Gareth Bale has been named as the Professional Footballers' Association Player of the Year.
Bale has impressed for Spurs in both the Premier League and Champions League this season, becoming one of the most coveted players in world football.
"I am more than delighted really," he said. "It is a massive award and it is a great honour to receive, especially from other fellow professionals. It is a honour really when you look at the names that have won it before and it just makes you go 'wow' really.
"There haven't been too many Welshman to have won the trophy but it is great and it is great for me personally. And it is not just for me, it is for all my team-mates that have helped me through the season and it is kind of for everyone really."
After initially struggling to adjust to life at Spurs following his move from Southampton, the winger insists he never doubted his ability to make it.
"I think it is due to a bit of everything really," he added.
"At the beginning I wasn't really playing much and I always believed in myself that if I did get a run in the team – which I eventually did – that I would be able to prove what I can do. That did happen and I kind of never really looked back from there.
"Playing in a good team with good players definitely helped me a lot and all the boys have been fantastic, the manager has been fantastic, giving me my chance, and it is something I want to improve on."
Bale was also nominated for the PFA Young Player of the Year, but that award went to Jack Wilshere of Arsenal.
"It is my first full season and it is a massive award, especially from my fellow players," he said. "It is amazing. I am very proud to be the fifth recipient from Arsenal, it is good to keep this history going.
"Arsenal is a good club for bringing youngsters through and they keep proving it so I would like to thank the manager as well."
Blackpool are now a best price 4/11 for relegation after slumping to a 3-1 defeat against Wigan on Saturday…