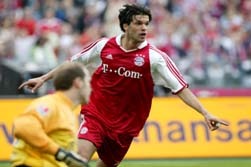 Michael Ballack's agent says the Bayrn Munich playmaker could join Chelsea before the beginning of this summer's World Cup.
Michael Becker said Chelsea were the only club he was talking to about his client, who becomes a free agent in the summer.
"The transfer window opens in May and the World Cup is coming up," Becker told BBC Sport.
"I think there is definitely something happening before the World Cup."
"There is interest from other clubs but Chelsea are the only club we are talking to at the moment.
"Right now we are exclusively talking to Chelsea."
Chelseas manager Jose Mourinho admittted at the weekend that he would love to sign Ballack.
"I want him, he told Bild. "He has said he needs time before making a decision. I respect that. Now it's up to him."
"For me Ballack is one of the best players in the world.
"He's very intelligent, tactically very strong and he scores a lot of goals.
"For me in Europe there's only Frank Lampard who plays at that level. The two would form a dream pair.
"They're the two best players in the world in their category."
Subscribe to World Soccer – The essential football magazine.