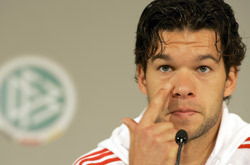 Chelsea manager Jose Mourinho has suggested that one of the club's most high profile signings, Michael Ballack, will no longer be considered "untouchable" when the season begins next month.
Ballack was one of nine players, alongside Claude Makelele, Michael Essien, Frank Lampard, John Terry, Ricardo Carvalho, Ashley Cole, Didier Drogba and Petr Cech whom Mourinho deemed was untouchable last season.
However, after an inconsistent first season it appears that the the German international no longer enjoys such exalted status.
Ballack is currently undergoing rehabilitation having twice undergone surgery on an ankle problem picked up towards the end of last season.
"You asked me about Ballack? What I can say is that he's a player I like," said Mourinho.
"I like him very much. But his life is not easy. Like [for] the other people, life is not easy. We have a lot of good players. I'm not the kind of coach that gives places to people just because they are faces or names.
"Everybody with me has to fight for his place. But I think they have a difficult task because the squad is really good. But Ballack is injured so when he comes back he will start from zero and will face some of the other boys already in top condition and playing football, so I don't think it will be easy for him."
Backing for Shevchenko
However, striker Andrii Shevchenko, who came in for plenty of criticism last season, appears to be back in favour with Mourinho.
The 30-year-old Ukrainian scored four Premiership goals in his first season after a £30m move from Milan.
"If he performs and shows me match after match he deserves to play, I'm very happy," Mourinho told BBC Five Live.
"I hope Sheva can do it. If Sheva plays magnificently I have to play him and Didier Drogba together, that is no problem for me."