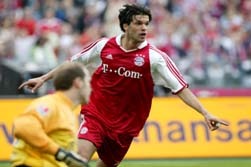 Chelsea are reported to have agreed a four-year deal with Bayern Munich midfielder Michael Ballack.
The German public broadcaster ZDF said the details had been agreed and all that was left was for Ballack, 29, and Chelsea to sign the contract.
"According to information from ZDF, Michael Ballack and the English champions have agreed a four-year contract," claimed the broadcaster.
"The captain of Germany and the London club must only sign the contract now."
There has been no official confirmation from either Chelsea or Bayern.
The 29-year-old's current deal expires at the end of the season and a number of clubs have been linked with him.
Ballack recently admitted to being in "serious negotiations" with the Stamford Bridge club.
Reports earlier this week claimed that Ballack was stalling over joining Chelsea because he could not be guaranteed a place in the starting line-up every week.
However, according to the player, talk of a completed deal appears to be inaccurate.
"That is rubbish, it's not true," said Ballack, in response to suggestions he had signed for Chelsea.
Subscribe to World Soccer – The essential football magazine.