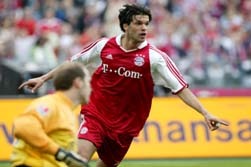 Michael Ballack will wait until at least January before deciding whether to stay with Bayern Munich or move abroad.
Earlier this week Bayern withdrew their offer of a new deal, but Balllack says he may yet stay on after his current deal expires at the end of the season.
"Foreign clubs can speak to me as of January," Ballack told a news conference on Wednesday.
"It would be a dream for me to play abroad but I can just as easily see myself staying at Bayern."
The Bundesliga champions reportedly offered Ballack a record four-year contract worth €36m before becoming fed up with his dithering.
The club said they were looking at their options for a replacement, although coach Felix Magath has since said he believes there is a good chance that Ballack will stay. Bayern president
Franz Beckenbauer also became involved in the saga when he suggested that Ballack would be making a mistake if he joined Manchester United – reportedly one of the clubs believed to be keen on signing the playmaker.
"This is my last contract," Ballack told Munich's tz newspaper on Monday. "I just want time to be certain about where I want to end my career and which road I'm taking in my life.
"My heart is with Bayern Munich. That's the reason I didn't say goodbye long ago."