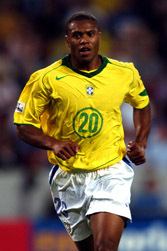 Arsenal target Julio Baptista has admitted he would prefer a move to Real Madrid, now that the Spanish side have emerged as potential suitors.
Sevilla's Baptista has been the subject of two bids from Arsenal – both of which were turned down – but with the Gunners preparing to submit a third offer, the Brazilian striker has admitted that he would prefer to stay in Spain.
A further season in Spain would entitle Baptista to a Spanish passport next summer and help him clinch a lucrative cut-price move from Sevilla.
"There are many factors against it (moving to Arsenal)," Baptista told Marca.
"I would have to leave Spain and adapt to another league in World Cup year and I believe I have a good chance of playing in it."
Real are prepared to bid £20 million to sign both Baptista and his Sevilla team-mate Sergio Ramos.
Baptista is prepared to wait before making a final decision.
"I have always said that I would never say no to any team and not to (Real) Madrid either," he continued.
"You don't have to explain what an important club it is with all its history.
"Any player would like to play there.
"It would be something I would have to think about with the people who work with me.
"We would see what the best option was, but as it is not something that has happened as yet, we are calm."