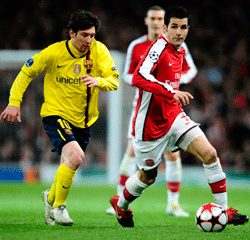 FA Cup finalists Portsmouth make the trip to the DW Stadium to face Wigan this evening. BestPrice betting odds here.
Arsenal chairman Peter Hill-Wood has revealed that Barcelona and the Gunners had a secret recent meeting to discuss the future of Cesc Fabregas and that the Spanish champions have given their assurances they will not try to sign the midfielder this summer.
Fabregas has been linked with a move back to Barcelona (where he started his career) but Hill-Wood insists that the Catalans will not be signing him in the summer.
"There was a private conversation that took place in the boardroom and assurances have been made at the highest possible level," Hill-Wood told ESPN Soccernet. "Arsenal do not expect those to be broken.
"I was not privy to the conversation, but was told about it. They said to us they are not interested [this summer]. It was a recent conversation, as recent as the time that they played us in the Champions League in fact as we got a bit upset because of all the media speculation.
"Subsequent to the conversation, if they are interested at any time in the future, they would come to us direct. However I'm not sure they are going to do that, because they told us they are pretty happy with what they have got and are pretty happy with their current players."
Despite Fabregas' importance to Arsenal side, Hill-Wood said he was not convinced that the midfielder would merit a place in the Barca starting line-up if he did choose to move.
"If you want my opinion, I'm not sure he would even get in their team," he said. "Do they need him? I'm not sure that they do. And they said to us they are not interested.
"That suits us fine. Fabregas is an Arsenal player and we want him to remain an Arsenal player. We hope he stays with us for a very long time."
Hill-Wood was speaking in the wake of Lionel Messi's claim that Fabregas was destined to play for Barcelona.
"Cesc has a place for Arsenal in his heart but he has Barcelona in his blood," the Barcelona forward told the Daily Express.
"He will want to win the biggest prizes in football and I expect him to do that at Barcelona.
"I don't exactly know when that will be, but I expect him to be my Barcelona team-mate again at some point.
"I am sure that Arsene Wenger and Cesc have a father-son relationship and I know that he has a very special relationship with the Arsenal fans.
"When you grow up at a club, it is more than just a club. The coaches, the players, the people in the club will be like family.
"But Barcelona is his city and it is the club of him and his family. There are only a few players in the world who can improve this squad we have but Cesc is one of them."
FA Cup finalists Portsmouth make the trip to the DW Stadium to face Wigan this evening. BestPrice betting odds here.
Make sure you don't miss any of the last news and articles from World Soccer. Subscribe to World Soccer today and take advantage of our all 50th anniversary offer, saving up to 50%!