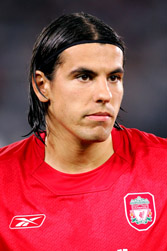 Liverpool manager Rafael Benitez has confirmed that Czech Republic striker Milan Baros may join Premier League rivals Aston Villa this week.
"Lyon have offered more money but he prefers to stay in England," Benitez told a news conference on Monday.
"I think he could sign (for Aston Villa) in the next two or three days."
Although Lyon are reported to have offered £8.5m for the striker, Baros wanted to stay in the Premiership and Liverpool are set to accept Villa's £6.5m fbid.
Baros recently said: "Villa are a quality club and I do not consider this a backward step at all. My situation will be better there."
Villa right midfielder Nolberto Solano has been linked with a move to Anfield and the club's boss David O'Leary insisted he will not stand in Solano's way should he want to leave.
"I will never keep someone, at any club I am at, who wants to leave," said O'Leary. "That is the bottom line.
"Nobby has seen the headlines and he has asked about it.
"But I told him no-one from Liverpool has made contact with me about it and Nobby was fine."
Benitez was speaking ahead of Liverpool's Champions League qualifier against CSKA Sofia.
Meanwhile, Benitez also confirmed his interest in defenders Fernando Meira and Lukas Sinkiewicez.
Stuttgart's Meira and Cologne's Sinkiewicez were reported as transfer targets by the Liverpool Echo.
"I read in the press about two defenders and it is true. We are talking about these players," Benitez said.
Benitez also confirmed his scouts had been watching Feyenoord's Dirk Kuyt.
He said: "Kuyt is a good striker and he might be cheaper than other players. We will have to wait to see what happens but he is someone we have talked about before."