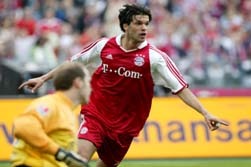 Michael Ballack looks set to quit Bayern Munich after the club withdrew their offer of a new contract for the 29-year-old.
Bayern might now be tempted to part with the player in January rather than see him leave on a free transfer next summer.
Ballack has repeatedly refused to sign an extended deal and his agent Michael Becker recently stated that he would "make up his mind and tell Bayern before the end of November" but the club apppear to have run out of patience.
"We made an agreement four weeks ago, whereby Michael would tell us today whether or not he was accepting our extremely attractive offer," the Bayern chairman Karl-Heinz Rummenigge told the club's annual general meeting.
"What Michael told us today was that he hadn't come to a decision yet, [so] we formally withdrew our offer."
"In the final analysis, this doesn't necessarily mean Michael Ballack will leave this football club," he said, "but we will immediately sound out the market to look for a replacement."
Among those linked with the German international are Manchester United, Real Madrid and Internazionale. United boss Sir Alex Ferguson is rumoured to have been given £10m to spend in the transfer window, which should provide adequate compensation to Bayern.