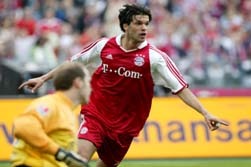 Amid reports that Manchester United are prepared to offer Michael Ballack a record deal, Bayern Munich president Franz Beckenbauer has advised the player against a move to Old Trafford.
United are willing to make Ballack the highest-paid player in the Premiership's history, with an annual salary in excess of £6m, eclipsing the £5,5m a year earned by Rio Ferdinand.
But Beckenbauer believes that a move to United would not improve Ballack's chances of winning the Champions League and he suggested that only a move to Real Madrid would represent a step up from Bayern.
"Much as I want him to stay, I feel he will probably leave," said Beckenbauer.
"If he does, the decision only makes sense if he goes to Real Madrid.
"I know United and Milan are also in the hunt, but Michael will only be improving himself by going to Madrid.
"Anywhere else and it will not be a step up."
United have been convinced since the summer that the midfielder wants to join them. After first declaring their interest six months ago, United believe they have a verbal agreement, giving them the edge over Real Madrid and both Milan clubs.
Subscribe to World Soccer – The essential football magazine