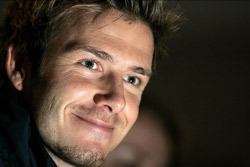 Compare football odds from over 25 bookmakers and claim £500+ in Free Bets. Click here for offer!
Former England captain David Beckham has backed Steve McClaren's side to bounce back from a poor start to their Euro 2008 qualifying campaign and qualify for next year's finals.
Beckham, 31, also confirmed that he was still available for selection.
England fans barracked coach McClaren during the laboured 3-0 win over Andorra on Wednesday, and there were persistent calls for a return of Beckham.
Speaking at the Sport Industry Awards in London, where he was given an award for Outstanding Contribution to British Sport, Beckham said: "Qualification is very difficult but I'm 100 percent behind these players and this team.
"I was proud to see the way the players were fighting because it wasn't an easy game. It wasn't an easy atmosphere.
"I've always wanted to play for my country since I was a young boy and that has never changed."
Beckham added: "It's always nice for me to have the support of the fans. That's where the majority of the feeling of English football comes from.
"It was nice to hear but it was also nice to see the lads get three points because there has been a huge amount of pressure on the team.
"I know these players because I've played with the majority of them in an England shirt. I know the passion they've got and how much they want to win. "
Regarding McClaren, Beckham said: "When you're England manager you'll always be criticised.
"I've had a few England managers in my career. I went through it with Glenn Hoddle, Kevin Keegan and Sven-Goran Eriksson.
"It's part and parcel of being England manager. It's unfair for me to comment on whether it's fair because it's nothing to do with me."
Beckham also suggested he has no plans to retire from international football and would remain available for selection.
"When I stepped down as England captain I said I'll always be available for my country," he said.
"I also said it when I wasn't announced in Steve McClaren's first squad and I'll say it again now.
"I'm still playing football and I will be playing football for many more years to come. I'm still available."
Compare football odds from over 25 bookmakers and claim £500+ in Free Bets. Click here for offer!