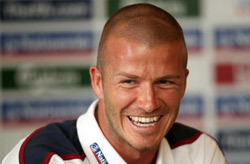 Manchester United defend their 22 game unbeaten home Champions League run against CSKA Moscow at Old Trafford – see all the best odds here (Tues 19:45)
England midfielder David Beckham is to rejoin Milan on loan in January after the Italian club reached an agreement with Los Angeles Galaxy.
Beckham regards a move to Milan as vital if he is to make the England squad for the 2010 World Cup.
The Los Angeles Galaxy midfielder had a loan spell at Milan last season, during the Major League Soccer off-season.
"I need to give myself the best chance to make the World Cup squad – playing for Milan will help me," said Beckham.
"I'm committed to LA Galaxy and MLS in the long term and remain as passionate as ever about growing the game of soccer in America.
"I'm completely focused on ending this season on a high note with my club by winning the MLS Cup," added Beckham, referring to the MLS play-offs.
During his first Milan loan spell, Beckham impressed with his attitude and fitness levels and was instrumental in helping the Serie A side qualify for the Champions League.
He joined Milan on an initial three-month deal in January 2009 that was extended to the end of the season.
"We are very happy to see again David Beckham with the Rossoneri jersey after the splendid experience of last season," Milan vice-president Adriano Galliani told the club's official website.
"We are certain that this time in Europe will help the player take part in the next World Cup and to continue after his career in Los Angeles Galaxy, to whom we thank for their time."
Galaxy head coach and general manager Bruce Arena added: "We are pleased to finalise David's loan to Milan and we look forward to his return to the Galaxy after the 2010 World Cup."
Beckham's first Serie A game this season could be against Genoa at the San Siro on 6 January.
Manchester United defend their 22 game unbeaten home Champions League run against CSKA Moscow at Old Trafford – see all the best odds here (Tues 19:45)
Christmas special offer – Subscribe to World Soccer magazine today and Save up to 32%