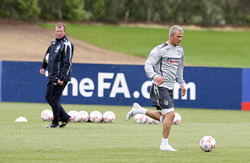 Steve McClaren has told David Beckham his England is secure despite his forthcoming move to LA Galaxy.
The England boss has expressed concern about the debilitating effects caused by long distance travel from the States, but has reassured Beckham that he remains part of his plans.
When asked whether he had a future with the national team during a press conference ahead of the La Liga showdown with Real Mallorca, Beckham said: "Without a doubt, without a doubt. The manager has already made me aware of that.
"As long as my fitness is right, as long as I'm playing like I have been playing in the last six months – which is the reason he said he brought me back into the team – then there won't be a problem.
"I believe my fitness will be the same as it is now, if not better.
"Everybody knows the level of football is different in America, but I'm determined to give everything."
Beckham is hoping to end four trophy-less seasons at Madrid career with the La Liga title on Sunday.
"I've had an incredible, incredible time, and hopefully it's going to end with the best ending possible – La Liga," he said.
"Winning the league is still difficult because we have a big match on Sunday.
"I need to stress that I've had four amazing years, whether we win on Sunday or not. But winning this Sunday will top things off for me."