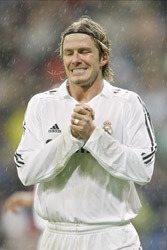 David Beckham says that the mood in the Real Madrid camp has improved since the appointment of Juan Ramon Lopez Caro as coach.
Since Lopez Caro replaced sacked Brazilian coach Wanderley Luxemburgo, Real's results have picked up and, according to Beckham, the players have begun to regain some of their self belief.
"We are working hard. I said the first two months under Lopez Caro would be very tough.
"We knew he was going to work us hard to get back to form and we have done that," Beckham said in an interview with Marca.
"We will have to keep improving. The league is very difficult," he added.
"We are more united on the field than we have been for months and this has been making us win games."
Subscribe to World Soccer – The essential football magazine