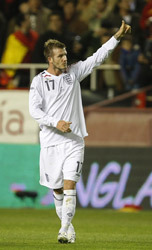 Can Man City be top of the table on Christmas day by beating Everton at Eastlands tonight? Bet here
David Beckham still hopes to join a European club on loan during the MLS close-season to maintain his hopes of playing for England.
The 35-year-old midfielder has spent the last two winters at Milan, but his club, Los Angeles Galaxy, are reluctant to send him out on loan again after he injured an Achilles' tendon while playing in Italy in March.
Having missed the first six months of the MLS season, Beckham had previously said he was focused on returning to full strength rather than seeking another loan move.
But now Beckham is looking to keep playing during the winter in the hopes that England coach Fabio Capello may recall him for the first time since he was injured before last summer's World Cup.
"I won't be going back to AC Milan this time because it is not possible to go onto the roster for such a short length of time," Beckham said.
"But I will be going back somewhere as I want to keep myself fit and keep myself in with a chance of getting called up for England again. To do that, I have to be somewhere, so fingers crossed I can sort something out."
Beckham has made 115 appearances for England – the most for an outfield player.
"My body feels great after my injury," Beckham said. "I always said I needed to get that back into order and keep my fitness and we will see."
Beckham said the only Premier League team he would consider playing for was Manchester United, whom he left in 2003 to join Real Madrid.
"It is a great league and one of the most competitive in the world," Beckham said of England's top tier. "Maybe one day I will come back here, but I have always said that it will only be for Manchester United. I am not holding my breath on that one, but we will have to wait and see."
Can Man City be top of the table on Christmas day by beating Everton at Eastlands tonight? Bet here
A subscription makes the Christmas perfect gift. Give a lasting gift this year and save up to 33% when you subscribe.