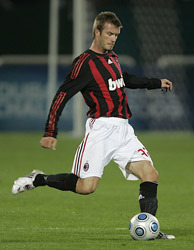 Jose Mourinho will face his old club as Inter Milan take on Chelsea over two-legs in the Champions League last 16. See the betting here.
David Beckham has dismissed suggestions that he he has a score to settle with Sir Alex Ferguson when Milan meet Manchester United.
The two sides meet in the Champions League last 16 on Tuesday night, with the first leg taking place at the San Siro.
It will be the first time Beckham has faced the club where he spent the first 10 years of his career.
When Beckham left Old Trafford, Ferguson was known to be unhappy with his celebrity lifestyle and there were reports of the United manager throwing a boot at the former England skipper during one heated row. However, as he awaits his first match against his old club, Beckham had nothing but praise for the veteran boss.
He told a press conference: "Manchester United are always going to be a strong team, no matter what, because Sir Alex Ferguson is a manager who always looks to improve the team.
"To be part of this tie is special. To be part of a Manchester United team that played in the Champions League for many years, and now to be part of an AC Milan team, the history goes beyond anything you can ever dream of as a football player.
"Sir Alex Ferguson was always a father figure to me. Always has been and always will be. No matter what people have said in the past about our relationship, whether we have had good times or bad times, I only remember the good times.
"He was the man that gave me the chance to play for a club that I'd always dreamed of playing for. We had so many successful times. For me, there are only good times and good memories from Manchester United.
"As an AC Milan player we want to win this tie. I want to beat Manchester United and to say that as a Manchester United fan is quite difficult.
"The most important thing is that we progress in the Champions League. There is definitely no score to be settled. It's all about the game and all about AC Milan.
"Clubs move forward, it was my time to leave Manchester United in 2003 and I moved on. I definitely don't hold anything against the manager, he really is an incredible man.
Beckham, who lifted the European Cup with United in 1999, knows he is not guaranteed a starting spot in Leonardo's first XI for the first leg, and accepts he may start the game on the bench.
"I always said when I came to the club that I never expect to start any game.
"I've started the first three or four games. Obviously last week I didn't play and then this week I came on so no I'm not frustrated at all."
Jose Mourinho will face his old club as Inter Milan take on Chelsea over two-legs in the Champions League last 16. See the betting here.
Make sure you don't miss any of the last news and articles from World Soccer. Subscribe to World Soccer today and take advantage of our all 50th anniversary offer, saving up to 50%!