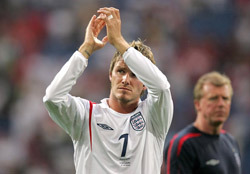 For Premiership, Champions League, Uefa Cup and Football League odds click here.
Former England captain David Beckham has spoken of the anger he felt since being dropped from the current set-up by Steve McClaren.
Beckham had been capped 94 times by England since making his debut against Moldova in September 1996 at the age of 21.
"Steve McClaren called me out of the blue. He had called me before asking about my ankle – I thought everything was good," Beckham told BBC Radio.
"He said 'I want to move forward but there will be casualties along the way and you're one of them.'
"I was angry and disappointed when I got off the phone.
"It surprised me, I was gutted. Playing for England meant everything to me. But I did not plead with him as he has made his decision."
Beckham had already stood down as England captain following England's quarter-final exit in Germany.
The Real Madrid midfielder, who scored his first goal of the season in Sunday's 2-0 win over Real Sociedad, says he is delighted for his successor as England skipper John Terry.
"I'm chuffed for JT, because he's a player and a captain who deserves to be in the position he is," he said.
"I have spoken to JT a couple of times and told him that if he needs to discuss anything I'm always at the other end of the phone.
"I will always support the lads, because they are great lads."
"It was six months before the World Cup that I decided to make the decision to step down," Beckham said.
"It was a hard, tough decision but six years as captain was the right time. I didn't think I would be playing the 2010 World Cup and I thought it was right for a new captain to take them forward.
"I spoke to Gary Neville, because he's my best friend and Victoria, and everyone agreed. I didn't want to announce it before the World Cup because I didn't want the captaincy issue to disrupt the set up.
"I still hope I will play for England again – that's why I've not retired from international football because I want to play again.
"If I was a betting man then I wouldn't bet on me playing again, but I really want to. I'm doing it for myself more than anything.
"The lads have adapted really well and I have so much respect for John Terry. He's a great lad and I'm sure Steve will be a good coach for England. I think the future is good for England."
For Premiership, Champions League, Uefa Cup and Football League odds click here.