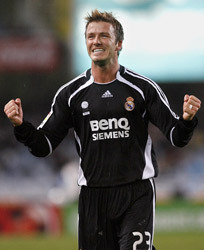 David Beckham has admitted that he wanted to stay at Real Madrid for another three seasons and regretted choosing to move to Major League Soccer.
The England midfielder agreed to join Los Angeles Galaxy after he was informed that Madrid did not want to renew his contract.
However, after impressing in the second half of the Spanish season, Real coach Fabio Capello and president Ramon Calderon, both admittted that they had made a mistake in allowing Beckham to leave.
"I felt capable of staying for longer at Real Madrid," the former Manchester United star told Diario de Noticias.
"I think I could have still played for three more seasons at the highest level, but as the club told me in January that they did not want to renew my contract I took this decision."
Beckham admits that he felt regret on the day that Real clinched the league title
"That day my heart ached, but the decision was already taken," he continued.
"I am going to continue to support Real Madrid and follow them next season."
Beckham believes the turnaround in Madrid's season came because the media had written off their chances.
"Nobody backed us and that removed a lot of the pressure. We were able to work better," he said.
Beckham also suggested that the ongoing instability at the club had undermined the team during his four years in Spain.
"There were too many changes," he added. "Three presidents and six coaches is too much.
"The players never stopped trying and we were the least guilty in all this."