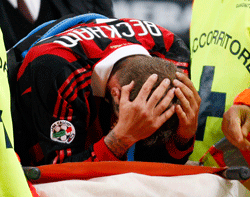 Arsenal have secured their place in the last eight with a two-legged win over Porto. See what price they are to go all the way here.
David Beckham's hopes of playing in a fourth World Cup looks to be over after he tore an Achilles tendon in Milan's 1-0 win over Chievo on Sunday.
The England midfielder was unchallenged when he suffered the injury and hobbled off before being carried away on a stretcher.
The 34-year-old will fly to Finland on Monday to undergo surgery.
Beckham hoped to be part of England's World Cup squad but coach Fabio Capello admitted that the midfielder's hopes of making the finals in June appear over.
"We have to wait for the results of the scan but it looks like he is out of the World Cup," he said in a statement. "I spoke with him after the game on Sunday night to offer my support, as did Franco Baldini.
"David is a great professional and has worked very hard to be ready for the World Cup, so missing it will be a big blow."
Beckham is scheduled to arrive in Finland at 1200 GMT on Monday to undergo surgery at the Helsinki clinic of knee specialist Dr Sakari Orava.
"To start kicking and playing football will take about three months," Dr Orava said told. "For maximal performances and maximum kicks and jumps, maybe it takes one month more, three to four months before one is able to do light playing.
"It's a total tear of the Achilles tendon. If there is any weakness then a graft can be taken from the calf and put over the injury site to make it stronger. This kind of procedure is planned.
"Today we allow patients to do motion earlier than before. In this case we try to get motion back as soon as possible. The operation takes less than one hour.
"After the first month, there can gradually be more and more motion and muscle contractions and very gradually shifting from light training to harder training in the second month.
"After that, one is usually able to walk and maybe start running lightly after two months if everything goes fine. All this depends on the type of tear."
Devastated
Beckham's spokesman told the Sun: "He's devastated by the injury. He's fearful of what it could mean for his World Cup hopes. We will see the full extent of the injury. Victoria is flying out to him immediately because of the injury. She's naturally worried about him."
Beckham rejoined Milan on a second loan spell in January and Rossoneri chief executive Adriano Galliani expects Beckham to be absent for "five to six months" but has already told the midfielder he will be welcomed back for a third spell in Serie A.
"I gave him a big hug and told him that he is a part of our family and that, if he wants to come back to Milan next year, there will be a place for him here," Galliani said in the Times.
"It's horrible, for two consecutive years he has come to play for us for one reason only, to stay fit for the World Cup and to further his England career. And now something like this happens. Football can be so cruel."
Arsenal have secured their place in the last eight with a two-legged win over Porto. See what price they are to go all the way here.