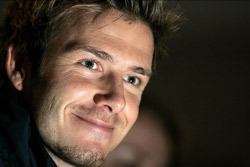 With the World Cup in full flow click here to see the latest odds on every match.
David Beckham has decided to resign as England captain after holding the position for six years.
But the 31-year-old midfielder player wants to continue his international career.
"I feel the time is right to pass on the armband as we enter a new era under new coach Steve McClaren," said Beckham.
It was England caretaker manager Peter Taylor who made Beckham captain in 2000.
"On 15 November 2000 Peter Taylor gave me the greatest honour of my career in making me the captain of England, fulfilling my childhood dream," he continued.
"It has been an honour and a privilege to have captained our country and I want to stress that I wish to continue to play for England and look forward to helping both the new captain and Steve McClaren in any way I can.
"I came to this decision some time ago but I had hoped to announce it on the back of a successful World Cup. Sadly that wasn't to be.
"This decision has been the most difficult of my career to date. But after discussing it with my family and those closest to me I feel the time is right.
"Our performance during this World Cup has not been enough to progress further and both myself and all the players regret that and are hurt by that more than people realise.
"I wish to thank all the players for their support during my time as captain, as well as Peter Taylor, Sven and all the coaches.
"I would also like to thank the press and, of course, all the England supporters who have both been great to me and my team-mates. I want them to know for me it has been an absolute honour.
"Finally, I have lived the dream, I am extremely proud to have worn the armband and been captain of England and for that I will always be grateful."
Sevn Goran Eriksson said of Beckham's decision: "He's been a very good captain and very proud to do the job.
"I was a bit surprised when he told me but you have to respect his decision.
"It is now Steve McClaren's job to decide on Beckham's successor. He has a lot of choices that are more than capable of doing the job. It is very much up to him."
With the World Cup in full flow click here to see the latest odds on every match.