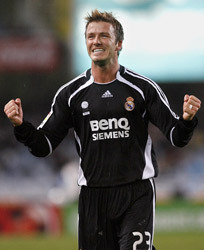 David Beckham will snub any offers to remain at Real Madrid, despite the club admitting they would like him to stay in Spain.
Beckham's spokesman said: "There is no intention of getting out of the Galaxy contract. David is looking forward to going to LA, but he wants to end his career at Real Madrid on a high note first."
The 32-year-old is set to join LA Galaxy at the end of the Spanish league season, but Real are looking to find a loophole in the contract which will enable him to stay.
However, LA Galaxy general manager Alexi Lalas insists that Beckham will ignore Real's attempts to persuade him to remain in Spain.
"Nothing has changed. We can't wait for Beckham to get here," Lalas told BBC Five Live.
"Real's hopes about keeping Beckham is benign. As far as that is concerned, that ship has sailed."
The Spanish giants' president Ramon Calderon was reported by Marca newspaper as saying: "We need to sit down with Beckham, his representatives and with (Real sporting director Predrag) Mijatovic, look at this clause, and decide between us.
"But for me I would be delighted if he remained at the club.
"There was a bit of anger by the premature announcement of his exit, but we are now going to make an effort for him to stay.
"I would be delighted if he remained at the club."
Real reacted sharply to Beckham's rejection of their contract offer in January.
Following his decision to join LA Galaxy, Real coach Fabio Capello said Beckham would never play for the first-team again.
But Beckham's attitude impressed Capello enough to win back his first-team place.
"As regards the Beckham issue, everyone made a mistake, yes. On the sporting side we took the decision and I am the person in charge of that," Capello told AS.
"It's a shame.
"He's another player who has recovered to a top physical and mental condition because he was so unhappy at not being in his national side. For every player your national team is important, but for English players even more so," he said.
"Beckham is a lesson for everyone, because he responded so very well.
"He is a great player. Now he is playing like did for Manchester [United]."