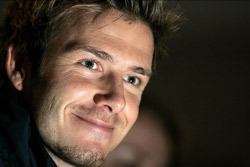 David Beckham believes Sven-Goran Eriksson's successor should have experience of management in the Champions League, a condition that would rule out several leading candidates for the job.
The likes of Sam Allardyce, Alan Curbishley and Stuart Pearce are reported to be on the the Football Association's unofficial shortlist, but none have experience of managing at the highest level.
Beckham said the main criterion was experience and a CV showing the candidate was "able to handle big games in the Champions League."
The captain effectively ruled out the three leading English contenders while enhancing the prospects of Martin O'Neill, and Guus Hiddink, the joint PSV Eindhoven and Australia coach.
Although he hopes to remain captain of the national team after Eriksson leaves, Beckham will not be consulted by FA chief executive Brian Barwick for his thoughts on a successor.
"It's not down to the players," admitted Beckham.
"The FA will decide who the right man is. There are many great managers out there and it's going to be a hard decision, one that we've got to get right."
Beckham did acknowledge that he would have liked to have seen Eriksson see out his contract until 2008.
Responding to questions about goalkeeper Paul Robinson's suggestion that Eriksson should not have been forced out his job, Beckham replied: "Robbo was right," he said. "The players are fully supportive of the manager; no one is resentful towards him for anything.
"We haven't won anything but his results have been very good. It would have been better to have some kind of stability.
"For 15 years at Manchester United I had one manager. In three seasons at Real Madrid I've had six coaches and now a second president and not won anything. Stability brings a comfort to players."
Beckham also admitted that passion for the job was an important criterion.
"You need passion," Beckham added.
"People may have said that Sven hasn't got the passion but he has. He shows it in a different way and that's what you need in a manager. You need the confidence to go out there and pick the right team and also be ruthless.
"To be a top-flight manager you have to have a certain amount of hunger.
"To do this job, you have to have an enormous amount because the expectations in our country are very high and rightly so, because we have got some great players."
Subscribe to World Soccer – The essential football magazine