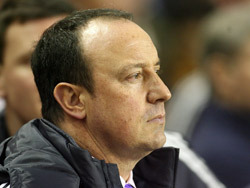 Compare football odds from over 25 bookmakers and claim £500+ in Free Bets. Click here for offer!
Rafa Benitez has admitted he is aware of the ongoing speculation linking him with the Real Madrid job.
The position of current Real coach Fabio Capello has come under scrutiny following the club's recent elimination from the Champions League, and there have been reports that Benitez is being lined up to succeed the Italian.
However, Benitez insists he is focused solely on Liverpool's campaign and their quest to regain the Champions League they won in 2005 under the Spaniard.
On Real, he told Revista de la Liga: "From a distance, you know that they are changing things.
"They have enough quality and players with experience. It's difficult when you are in another country to talk about their squad, but they have very good players.
"I know that the people are talking but I like to be focused on my team because we are trying to finish in the top four and we are playing in the Champions League."
Benitez is keen to hold talks with new Liverpool owners George Gillett Jnr and Tom Hicks about their plans for the future, and in particular to discover whether significant funding will be made available for transfers in the summer.
"It's important to know the ideas of the new owners and they need to know my ideas," he explained.
"It's important to know what will happen in the future. Will there be a new stadium and maybe more money coming in? We need to do the right things."
The former Valencia manager's agent Manuel Garcia Quilon insists Real have not spoken to him about Benitez.
"I have heard the rumours in the Spanish media linking Rafa Benitez with Real Madrid," said Garcia Quilon.
"However, as far as I know, Real Madrid have not shown an official interest in Benitez.
"I cannot speak for Benitez, but the fact is that he has three years left on his contract with Liverpool."
Compare football odds from over 25 bookmakers and claim £500+ in Free Bets. Click here for offer!