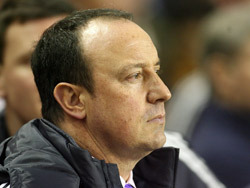 Liverpool manager Rafa Benitez says he feels confident about the direction in which the club is heading after holding talks with club owners George Gillett and Tom Hicks.
Benitez warned the club's owners last week they need to back him in the transfer market if they wanted to realise their aspirations for the club.
"Rick Parry (chief executive) and I had a good meeting when we spoke to the owners and we all agreed what is important is for everyone to work together to do the right things for the club," Benitez told the Mirror.
"That means changing the structure of the club and spending money on players, both young players and players who will go straight into the team.
"We have not talked about budgets, but I know the owners are backing me. That's what is important now, and it is time for us to be positive.
"It's not just about buying players who might be more expensive, but getting players for the right price."
The Reds recently signed Hungarian youngsters Krisztian Nemeth and Andras Simon and Benitez was delighted to win the race to sign the duo ahead of a number of big clubs.
"They are two top talents. There were a lot of big clubs interested in them, such as Real Madrid, Ajax and PSV," added Benitez.