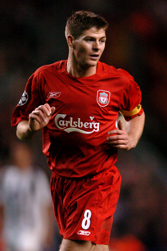 Liverpool manager Rafael Benitez has paid tribute to Steven Gerrard's "unselfish" contribution to his side's rise up the Premier League table.
Benitez acknowledged that persuading Gerrard to stay was his single most important decision of the summer.
"The first and most important was the player I re-signed – Steven Gerrard," Benitez told Fifa.com.
"He was free as well which I thought was a good bit of business."
Liverpool turned down a bid of around £30m from English champions Chelsea during the close-season and there were rprots of tensions between the manager and his captain.
However, Benitez was keen to laud Gerrard as Liverpool prepared for their Club World Championship semi-final with Costa Rica's Deportivo Saprissa.
"He is improving every year," Benitez said.
"He can play anywhere. He is so unselfish in that respect. He always thinks about the team and not about himself."
Benitez also confirmed that he would be looking to strengthen his squad when the transfer window opens in January.
"We are always looking to bring players in," he said.
"But the priority for us at the moment is this (FIFA) trophy."
Benitez had ordered Gerrard not to touch the trophy during a media day at Anfield last month.
"You don't want to tempt fate," the Spaniard said.
"It's a beautiful trophy and we want to bring it back to Anfield."
Subscribe to World Soccer – The essential football magazine