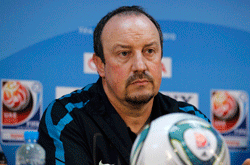 With Rafael Benitez all but out at Inter Milan, who will take over at the San Siro? See all the latest betting
Rafael Benitez's future as Inter manager looks to be in jeopardy after his agent confirmed talks are taking place over the Spaniard's contract.
Agent Manuel Garcia Quilon said he was "neither optimistic nor pessimistic" following initial discussions.
Benitez fired out a 'sack me or back me' broadside at Inter's board after winning the FIFA Club World Cup on Saturday, and the club responded by describing the situation as "a mess".
Inter, who have won the last five Serie A titles, are currently seventh in the table, 13 points behind leaders Milan, although they do have two games in hand.
The former Valencia and Liverpool boss Benitez joined Inter in June, replacing Jose Mourinho, and having so far failed to deliver the required results, speculation is mounting that his brief reign could be over.
After emerging from a meeting on Wednesday evening with the Italian club's vice-president Rinaldo Ghelfi and technical director Marco Branca, as well as the club lawyer Angelo Capellini, his agent added: "We will meet again to talk more."
On Wednesday, Inter president Massimo Moratti would not clarify the situation but said discussions were ongoing.
"We are trying to understand what's going on, this situation is a bit of a mess," he said.
"Everything that happened was a bit unexpected, we are considering every point of view."
Following reports to the contrary on Monday, Benitez denied that he had been sacked.
Despite stating Benitez's post-Club World Cup final comments "were not suitable for the situation", Moratti praised Inter's coach for the way he oversaw the Club World Cup win.
"For the moment the Inter fans are happy," said Moratti. "It is not the moment to ask for reinforcements."
Under former coach Mourinho last season, Inter won the Serie A title, the Italian Cup and the Champions League. But the Portuguese coach ruled out any possibility of making a return to the San Siro.
"I have a four-year contract with Real Madrid, and I'm going to continue here for a long time," Mourinho told Italian newspaper Gazzetta dello Sport.
"There are many things to do in Madrid, and not only on-field work. I hope that Inter don't need me now, as this would mean they have taken the wrong path.
"In my future it will be the Premier League or Italy. Problems at Real Madrid? I never have problems."
With Rafael Benitez all but out at Inter Milan, who will take over at the San Siro? See all the latest betting
A subscription makes the Christmas perfect gift. Give a lasting gift this year and save up to 33% when you subscribe.