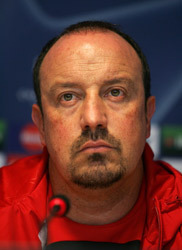 The FA Cup third-round draw has been done, with three all-Premier League ties. Click here for all the BestPrice FA Cup outright betting & draw – 3rd & 4th Jan
Liverpool manager Rafa Benitez has asked his players to prove they can sustain a serious title challenge this season.
The Reds can go three points clear at the top of the table if they beat West Ham on Monday night and Benitez has warned his rivals to write his side off at their peril.
"After two games without playing well, people are starting to say that we are looking a little bit nervous, but we are still close to the top of the table," said Benitez.
"We have qualified for the next round of the Champions League, we are in a fantastic position in the league and we are playing really well. If you have some experience, you know that, if you want to be a contender, you have to think only about the next game.
"So it doesn't matter what they [Chelsea and United] say and it doesn't matter what people may think.
"I am not worried by what they say. It depends on the players and the team. We are at the top of the table and we know that, if we beat West Ham, we will be there at the top of the table for another week.
"My message to the players is the same. We have to concentrate on our own team and on our own games. I cannot change what people think.
"I can only give my players the right message. The thing for me is that the team is doing well, but it can also improve."
The FA Cup third-round draw has been done, with three all-Premier League ties. Click here for all the BestPrice FA Cup outright betting & draw – 3rd & 4th Jan
Save up to £14 a year this Christmas when you subscribe to World Soccer