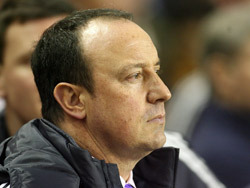 Help us with a Sport and Betting Survey and win a £50 Free Bet! Click here to take part now.
Rafa Benitez does not intend to dwell on Liverpool's Champions League final defeat, as he has confirmed there will be a number of personnel changes at Anfield this summer.
Speaking in the wake of Liverpool's 2-1 defeat to Milan in Athens, Benitez is planning radical surgery on his squad and he has confirmed Dutchman Boudewijn Zenden will be allowed to talk to other clubs, while Mark Gonzalez is already the brink of a move away from Merseyside.
Benitez has already shown the door to Robbie Fowler and Jerzy Dudek and he is keen to strengthen his squad as soon as possible.
"We must not waste this moment," said Benitez. "We must move quickly to sign our number one targets.
"If we wait we will be chasing the players who are second and third on our list. We need to change the structure of the club on and off the pitch.
"We must make progress, and make it now to take us up two or three levels straight away.
"There will be several players leaving," he added, with Gonzalez tipped to join Real Betis. "We will wait for offers.
"We have a deal nearly completed for Gonzalez and I have told Bolo that he can talk to other clubs. We know the situation we have now.
"I have been told by the new owners that they will back my plans," he said. "But when you look at the champions Manchester United spending £20million on a midfield player, and we have been paying just £8 to £9m for our strikers, you know what must be done.
"We must spend big and spend now. Our fans know what we need to do and so do I. We need to pay the price needed for each position."
With regard to the match, Benitez believes that Filippo Inzaghi's deflected opening goal played a major part in Milan's success.
"The first half we did really well, we played really, really well and then we conceded a deflection at the end of the first half," he continued.
"Second half we were pushing, pushing, but then you leave space and then they have quality and it made the difference.
"We tried to keep the ball and press high, but you need to take your chances – we did have a lot and went close, but the quality they have if you lose the ball you will be in trouble.
"I think the team in the first half was really good."
Help us with a Sport and Betting Survey and win a £50 Free Bet! Click here to take part now.