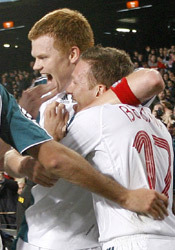 Win FREE tickets to the Cheltenham Festival as well as up to £1,000 in FREE BETS. Click here for more info!
Rafael Benitez was quick to praise John Arne Riise and Craig Bellamy, the duo involved in last week's fracas in Portugal, after both players scored in Liverpool's 2-1 win over Barcelona.
Reports of a clash between the pair had dominated the build-up to the Champions League last-16 first-leg tie.
"I am really pleased for Bellamy and Riise," said Liverpool manager Benitez.
"The atmosphere in the team is very good. The training camp in Portugal was helpful. The players' commitment was good before and after the problems."
Bellamy celebrated his first-half goal by simulating a golf stroke, a reference to last week's incident where he allegedly tried to hit team-mate Riise with a golf club.
His goal levelled the score and Riise's winner enabled Liverpool to overcome the European Cup holders at the Nou Camp to put themselves in a strong position to qualify for the last eight.
But Benitez remains cautious about the Reds' hopes of reaching the quarter-finals.
"The job is not done yet. It's clear we have a good chance now but we must be careful," he said.
"Barcelona have got some very good attacking players and we need to do our best at Anfield. We have to be prudent, nothing is decided yet."
Barcelona coach Frank Rijkaard was downbeat after the game, acknowledging that his side face a difficult task in the second leg at Anfield next month if they are to remain in the competition they won last year.
"We can't be happy about this result," said the Dutchman. "The situation is very difficult, but we mustn't give up hope.
"Liverpool have a big advantage in that they don't have to change the way they play in the next leg whereas we have to have a great night where everything goes perfectly."
"We must always be positive, but we have to be realistic. It will be difficult to make a comeback," Rijkaard said.
"Liverpool did a great job but we still have one game to go. The situation is complicated for us because they are very strong on their own ground.
"There are still 90 minutes left, but Liverpool can go out knowing they just have to keep the ball.
"We have to keep on going and wait for our chances. We have to be confident and have trust in ourselves."

Win FREE tickets to the Cheltenham Festival as well as up to £1,000 in FREE BETS. Click here for more info!