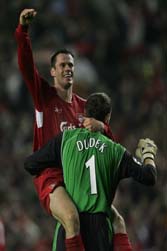 Liverpool manager Rafael Benitez praised his side's hard work and their fans' support for the 1-0 Champions League semi-final win over Chelsea.
Benitez said he was proud of the way Liverpool had played at such a high tempo for 90 minutes in the second leg at Anfield following last week's goalless draw at Stamford Bridge.
Tuesday's 1-0 win following Luis Garcia's fourth-minute goal saw Liverpool into the Champions League final against either Milan or PSV Eindhoven in Istanbul on May 25.
"With our supporters behind us and with our players running, we won. It was hard. Chelsea are a fantastic team. We won working hard to the end," Benitez said.
"I said before maybe they are the best supporters in England. After today they are the best in Europe.
Mourinho claimed the Liverpool fans may have influenced the linesman, who signalled the fourth minute goal from Luis Garcia, when his players felt the ball had not crossed the line.
"I felt (the support) was magnificent. It didn't interfere with my team but maybe it interfered with other people and maybe it interfered with the result. He made a mistake," said Mourinho, referring to Slovakian linesman Roman Slysko.
"Bring in the linesman and ask him why he gave a goal. To give a goal it has to be 100 percent in and you have to be 100 percent sure it was a goal."
Mourinho refused to accept that the best team had woon.
"The best team lost that's for sure and didn't deserve to lose but football is sometimes cruel," Mourinho said.
Benitez denied that Liverpool had not deserved to through to the final.
"In the Champions League we have played very well for most of it," he added.
Asked if Liverpool could win the final he said: "First we want to see who we will play against. After that, why not?"
Mourinho wished Liverpool well in the final.
"I wish them to win from my heart because if they win it's a Premiership team who wins," he said.