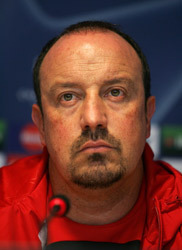 The African Cup of Nations is now underway and we have all the best outright tournament and individual match odds.
Liverpool boss Rafa Benitez claims he is accustomed to speculation surrounding his future as their poor season continues.
Out of the Champions League and struggling in the Premier League, the Reds' season hit to a new low after Wednesday night's FA Cup exit to Championship side Reading at Anfield.
The Royals knocked Benitez's side out of the third-round replay with a 2-1 win after extra time.
"At this moment in time, we are really disappointed for the fans," Benitez said.
"They came here today and supported the team and we couldn't win. (We're) really disappointed," he added.
The defeat has prompted many to question the Spaniard's position in charge.
"Everybody has been talking about me but I'll keep working hard with my team," Benitez told the club's website.
"From the beginning of the season we have been a little bit frustrated but we have to carry on. When you are in the race you need to keep going.
"People have been talking about me for three months, I am used to it.
"All we can do is continue to work hard, to think only of raising spirits for our next match. Everyone is very disappointed, it was a massive competition that we wanted to do well in.
"As for me, I will continue to do my best all the time, we have to carry on, we have to improve.
"This has not been our best season. There have been good situations and bad situations. The only way to improve is to be confident and to continue to work hard."
Benitez cited injuries to key players as an excuse for their latest defeat, with key duo Fernando Torres and Steven Gerrard both being substituted by half-time.
"Both players will have a scan tomorrow (Thursday) and we have to wait for the doctor," he told the club's official website.
"Not only do we have injuries now to Torres and Gerrard again, but Yossi Benayoun has a chest injury too," he confirmed.
"Gerrard has a problem with his hamstring and Torres twisted his knee.
"Yossi Benayoun also has some problems with his ribs so again we will have to wait."
The African Cup of Nations is now underway and we have all the best outright tournament and individual match odds.
Make sure you don't miss any of the last news and articles from World Soccer. Subscribe to World Soccer today and take advantage of our all 50th anniversary offer, saving up to 50%!