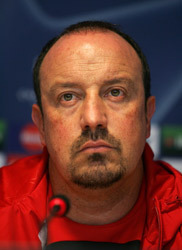 Liverpool manager Rafa Benitez has admitted that he may need to buy almost half a new team in order to rebuild the club in the wake of defeat in the Europa League semi-finals.
The Reds were lnocked out of the continental competition at Anfield on Thursday night after losing on away goals to Atletico Madrid.
The Spaniard admitted the sesaon had been a let down and he will look to buy several new players in the close season.
Benitez, who has already agreed a deal with Charlton for Jonjo Shelvey, said: "Someone said we needed four or five players. I would more or less agree with that. That is what we have to do.
"Liverpool is a massive club. There has been a change in the last two or three years. We have had to balance the books and manage in this way.
"I do not know whether I will have any funds. We will find out in the summer. But the name is there and we have to do our best for it."
Rebuilding job
Whether Benitez is the man to undertake such a rebuilding job remains to be seen.
The Spaniard refused to discuss his future, looking no further ahead than the two games his side have left this season.
"The future is Chelsea. And then Hull," he said.
For Atletico, the win on away goals allowed them to become the only Spanish side to reach a European final this season.
"No-one would have expected this," said coach Quique Sanchez Flores. "We are happy to represent our country and be Spain's only team in a European final.
"It was an amazing night. You can't come to Anfield without knowing you are going to suffer some difficult moments but we were the stronger side in extra-time and deserved to go through."
Now they must overcome Fulham and Sanchez Flores is wary of the threat posed by the unheralded English side.
"Never trust any team that goes all the way to the final," he said. "Any English team will be very competitive and Fulham are no exception."