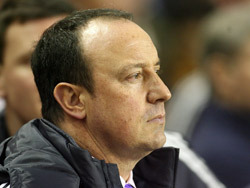 Will England beat Germany? Put your money where your mouth is and click here now
Liverpool manager today accused the Premier League of unfair treatment which threatens to undermine the club's season.
The Spaniard was responding to the decision by a Premier League arbitration panel to back Manchester United's right to prevent Gabriel Heinze from moving to Anfield.
"I would like to ask the Premier League a number of questions," said Benitez. "How can a player with a signed agreement be treated like this?
"He has a document which is clear, but the Premier League prefers to believe the word of someone else who made a mistake. I know there were accusations made against Liverpool in the hearing which were unbelievable. How can this be allowed?
Benitez, who is under pressure to bring the title to Anfield, suggested that an anti-Liverpool conspiracy was at work within the Premier League.
"Then I would like to ask the Premier League why is it that Liverpool always plays the most fixtures, away from home in an early kick-off, following an international break? We had more than the top clubs last season and we have four already to prepare for this season.
"Then I want to ask the Premier League why it was so so difficult for Liverpool to sign Javier Mascherano, when we had to wait a long time for the paperwork, but it was so easy for Carlos Tevez to join Manchester United?
"It's going to be very difficult for us to win the Premier League because the other teams are so strong, but I want our supporters to know that despite the disadvantages we have, we will fight all the way.
"We will fight to cope with our more difficult kick-off times and all the other decisions which are going against us."
Benitez is annoyed because Heinze's appeal will not be held until the transfer window has been closed. But if the Argentine is successful in a fresh hearing, there is a provision for a deal to proceed outside the transfer window.
Heinze remains confident of winning the appeal and has not given up hope of moving to Liverpool.
His solicitor, Richard Green, said today: "We are extremely disappointed with the result and we will be appealing."
Will England beat Germany? Put your money where your mouth is and click here now