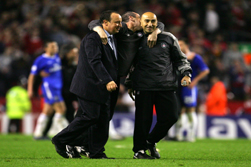 Rafael Benitez is undaunted at the prospect of facing favourites Milan in the Champions League final, should the Italian team overcome PSV in tonight's second semi-final.
Milan look set to make the final, leading PSV Eindhoven 2-0 ahead of the second leg in Holland, but Benitez believes Liverpoiol are capable of beating anyone.
"Each time this season the favourites against us have lost, we would be happy to have the same situation," he said after his side's 1-0 win over Chelsea.
"We need to wait to see the team that we play against but it's the same to us either way."
He added: "Normally it would be AC Milan, with the experience of Italian teams and being 2-0 up.
"But after that, why can't we win? If we have beaten Bayer Leverkusen, Juventus and Chelsea, why not AC Milan or PSV? It's possible, for sure.
"If you play in the final, it's for winning, not for losing."
Benitez was speaking after Luis Garcia's controversial goal settled the semi-final ti e against Chelsea to take the four-time winners of the trophy through to their first final since the ill-fated game at Heysel in 1985.
Liverpool are also the first English club to make the final since Manchester United beat Bayern Munich in 1999.
Benitez said: "It's good for English football to have a team in the final and we will do our best for English football.
"To work hard and have our supporters behind us and believing until the end, you run a little bit more.
"Before, I said that they were maybe the best supporters in England. Now maybe they are the best supporters in Europe."