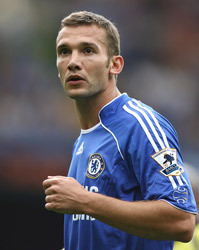 Milan president Silvio Berlusconi has revealed a preference for re-signing Andrii Shevchenko over Samuel Eto'o, if the two strikers became available.
Milan have been linked with a summer move for Barcelona's Eto'o, although Shevchenko continues to be linked with a return to the San Siro after a disappointing season at Chelsea.
"I like Eto'o, he's young, but I'm a romantic and I prefer Shevchenko," Berlusconi told Canale Italia.
"When I spoke with (vice-president) Adriano Galliani a few days ago, I was given the impression that there was an 80 per cent chance Sheva would return to Milan.
"If the percentage had now fallen, Galliani would have surely have told me.
"Sheva has a great desire to come back and there are no obstacles regarding his salary, because it would be equal to one of our other champions.
"Next, we must find an agreement with Chelsea on his cost. Sheva would make an ideal addition to our attack."