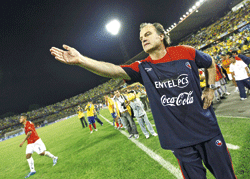 Fernando Torres is a best price 11/8 to score for Chelsea against Liverpool on Sunday – click here to place your bet
Marcelo Bielsa has reversed his decision to quit as Chile's national team coach and is staying on in the job, Chilean FA (ANFP) President Sergio Jadue has confirmed.
Jadue said Bielsa, who had vowed to quit in November, had not presented his resignation by the January 31 deadline which the Argentine had set himself to give the ANFP his decision.
"Today I met with the national team coach Marcelo Bielsa in a meeting that lasted no more than 15 minutes and in which I reiterated our intention that he remain in charge of the team," Jadue told reporters.
"He told me he would reply in writing. Unfortunately he hasn't done this yet, but I interpret his silence in an optimistic manner. Marcelo Bielsa stays.
"He's aware of my interpretation and what I was going to communicate to the news media," Jadue said.
Bielsa had said the day before the November 4 election for a new ANFP president that he could not work under opposition candidate Jorge Segovia.
Segovia beat incumbent Harold Mayne-Nicholls, a FIFA executive member who had appointed Bielsa as coach in 2007, and the Argentine looked set to leave despite signing a new contract until 2015 in August.
However, the result of that election was declared invalid days later because of a conflict between Segovia's business affairs and his position as president of first-division side Union Espanola.
Jadue won a second election earlier this month and said he was committed to persuading Bielsa to stay on.
"Next week, since we're continuing our work, we'll prepare for the friendly match in March with Portugal," Jadue said.
"We have a coach, a match and the Copa America … so we're very optimistic because we consider him an excellent trainer."
Fernando Torres is a best price 11/8 to score for Chelsea against Liverpool on Sunday – click here to place your bet
Take advantage of the sales by saving up to 36% on a subscription to World Soccer