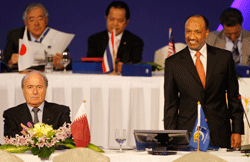 See the best odds on EVERY Champions League match this week in our dedicated betting centre…
Mohamed Bin Hammam will reveal on Friday whether he intends to run against Sepp Blatter for the FIFA presidency.
The the president of the Asian Football Confederation has been hinting in recent months that he could stand and last week spoke about the confederations he expected to receive support from.
The Qatari will now hold a news conference at the headquarters of the Asian Football Confederation in Kuala Lumpur on Friday.
Bin Hammam said on his Twitter account: "I will hold a press conference on Friday, March 18, at AFC House.
"I will clarify my position regarding the FIFA presidency elections, which take place in June 2011."
The upcoming FIFA presidential elections are due to take place on 1st June in Zurich, with the deadline for declaring an intention to run on 31st March.
bin Hamman was one of the driving forces behind Blatter's campaign in 1998 but relations between the pair have deteriorated in recent years.
Meanwhile, Blatter, who is seeking re-election for a fourth four-year term as president, was in confident mood last week when asked about a possible challenge.
"If you want to see new faces then OK, every four years we have an election," he said.
"I have received support from different national associations to stand again.
"If I win OK, if lose I say thank you then go away. You will have your new face and then we will see what will happen.
"But I think it's not new faces we shall have in FIFA."
See the best odds on EVERY Champions League match this week in our dedicated betting centre…
Take advantage of the sales by saving up to 36% on a subscription to World Soccer